Keatings Bar & Restaurant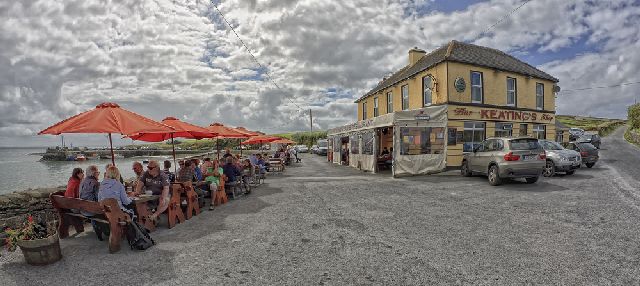 Keating's Bar is a wonderful, family run Pub and Restaurant in the heart of Kilbaha village. Situated spectacularly on the seafront on Kilbaha Bay, on the road to the Loophead Lighthouse. Keating's proudly lays claim to being the 'nearest bar to New York' (as the crow flies!) and even has an iconic image of the Statue of Liberty on it's western gable. Passed down through the family for generations, this bar is steeped in history and it's genuine, friendly staff will ensure you feel instantly at home.
Now boasting a magnificent menu, with a mixture of fresh, locally caught sea produce and indeed many other delectable delights including steaks, grills and stir fry's, Keatings has become a widely acclaimed eatery with locals and tourists alike. In deed there is nothing more endearing than sitting on the old sea wall at the front of this pub, in the sunshine, sipping on a glass of wine, eating fresh chowder and watching the fishing boats go by. Their famously good Guinness and evenings of great music and entertainment will have you longing to return again and again.
Keating also run a local grocery shop where you can acquire all your daily necessities to live in the area.
Contact Details
Keatings Bar, Kilbaha, Co. Clare
Telephone Details
Landline  – +353 (0)65 9058009
Mobile      -00353 (086) 8241846
Facebook
https://www.facebook.com/pages/Keatings-Bar-and-Restaurant/437188312974864
Email
Website
http://www.keatingsbar.com/index.html
View from Keatings Bar, Kilbaha, Co. Clare, Ireland – YouTube